To see the full list of winners click here.
The Grand Final of EIT Jumpstarter, a talent scout for promising early-stage start-ups, is over, but there is a long road ahead for the most promising teams. The winners were chosen in seven categories – health, raw materials, food, manufacturing, energy, urban mobility, and New European Bauhaus (focusing on sustainable and inclusive living spaces) – and some of them are now back to share their experience regarding this very competitive pre-accelerator programme.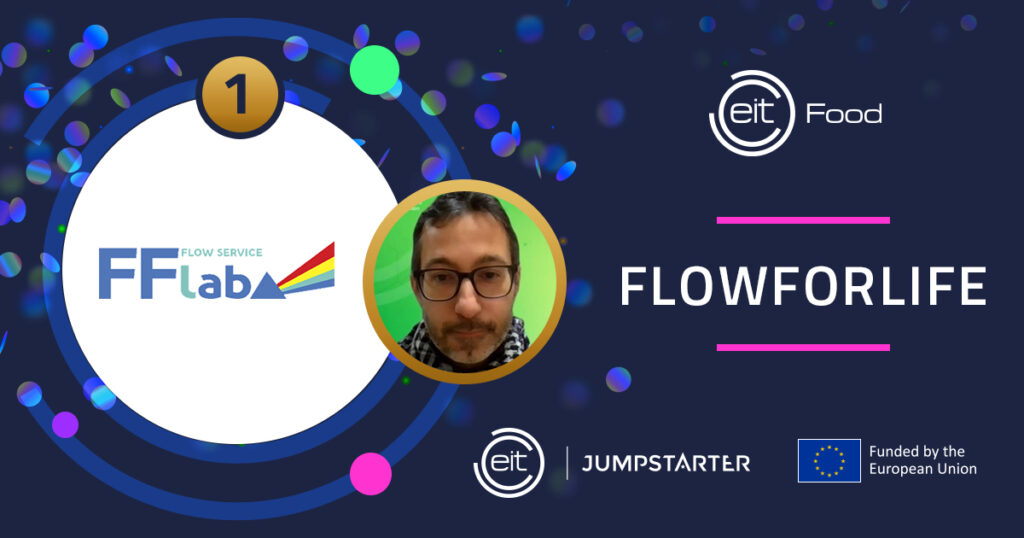 "The EIT Jumpstarter experience was highly stimulating for the whole FlowForLife Team. We have mainly academic experience and through the programme we had the opportunity to learn about the spin-off/start-up world. This experience allowed us to develop a brilliant pitch, as well as to become familiar with our business plan. Our idea, which was a good one from our point of view, became an innovative spin-off thanks to the right tools given by EIT Jumpstarter" – said Paola Lanuti and Pasquale Simeone, members of FlowForLife, the winning team of the EIT Food category.
The Italian team's solution offers an innovative, rapid, and economical test for the simultaneous screening of 80 antibiotic residues – 10 families – in a single test. Their goal is to obtain an "antibiotic safe" label to make a concrete contribution to solving the problem of antibiotic resistance. "We imagine that our biggest challenge will be to reach the nearest markets. We also would like to persuade the final customers that our method allows to obtain an effective and affordable 'antibiotic safe' label that responds to a need of worldwide health. In fact, antibiotic resistance is a serious problem and what we eat highly impacts this. So testing and labelling what we eat today is crucial for our future" – they added.
"I am really motivated"
Megi Mejdrechová, founder of RoboTwin, the winner of the EIT Manufacturing category said, that before participating in the programme, she could not imagine building a business based on her own idea. Now she knows it is possible.
"I learnt the basic principles of how to do it, and I am really motivated to do so because I see it makes perfect sense to turn good ideas into products and let them have an impact in the industry and the society" – she said. Her vision is to make automation of specialised jobs efficient with smart robot teaching. RoboTwin does automation based on motion tracking and imitation.
It is a set of hardware and software that tracks workers' motion, extracts their know-how, and generates optimal robot programs automatically.
RoboTwin introduces a solution that fits the needs of small- and middle-sized manufacturers and succeeds even where conventional automation fails. "We are currently working on the application for an IP protection of our product. Thanks to the EIT Jumpstarter programme, we also got in touch with the EIT Manufacturing Business creation centre, and we see potential in participating further in their activities" – Mejdrechová said.
Rafael Omar Torres from Nano-Pure-Precision – winner of the 1st prize in the EIT Raw Materials category –, a Czech start-up that is dreaming of becoming the leading supplier of the cleanest nanoparticles in the European Union, praised the business training of the programme.
"I have gained the initial business knowledge and thinking to move further with the idea, which I was lacking/missing before. Of course, there is still a lot to learn, but EIT Jumpstarter has provided a solid starting point to build on further" – he said. Torres, however, knows that there are challenges ahead, especially, when it comes to conquering the Czech market: "The nanomaterials industry relies heavily on low-quality but extremely low-cost nanoparticles. It will be on us to face it and try to change this paradigm."
"You have to fight for your start-up"
This year was special in the life of the EIT Jumpstarter: we received a record number of applications, it welcomed participants from the Western Balkans for the first time in the programme's history and it also introduced a new category, the New European Bauhaus.
"It was an agile but effective experience, very detailed, planned with great mentors from all over Europe. For us, since we are mostly architects with an academic background, it was important to translate the results of the research into a possible business idea. It helped us clarify the customers' needs as well as to develop a preliminary business model" – said Andrea Brambilla, who, along with teammates, developed SUSTHEALTH, and won the second prize in the New European Bauhaus category.
Their solution is an evidence-based assessment framework designed with a multicriteria methodology, to rapidly estimate the level of sustainability and quality of hospital facilities and organisations. It subsequently provides implementable design strategies to address identified weaknesses. According to their professional experience, minor design flaws can impact patient mortality, increase medical staff burnout, and accumulate huge operating costs for hospital managers. That is why they want to make hospitals better and more sustainable places for all of us.
The Grand Final was not only an opportunity for participants to showcase their ideas but to learn from the experience of previous winners and experts. At the afternoon panel discussion, "Success stories from Jumpstarter Alumni" they got a glimpse of what the next year might look like for their start-up. As Stefan Hristozov, from Unmanned Systems Bulgaria (2020 finalist in the Urban Mobility) described it: "It is a marathon". Another alumni used a more figurative expression: "It is a real fight: you have to fight for your start-up".